Raider Country Does Not Own Certain Content Posted Here You May View The Disclaimer In Our SideBar Section
Appetizers..Dinners..Deserts..& Cocktails
to "

YOUR PLACE

"
(Check out our '

Thirsty Thursday

' & '

Frying Friday

' too)
"God bless you all for your prayers. Surgery went well
and I am now on the road to recovery. Therapy & Radiation for the next six weeks." Author Allen 'The Raider' Erhard
Cheesy Bacon Spinach Dip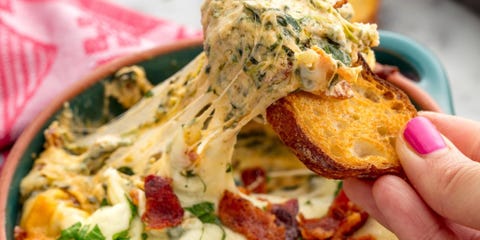 We love baked spinach dip more than we like to admit. (TBH, we've never met a dip we didn't like.) Here's how to make the dip of your dreams.
Use cream cheese and mayo and sour cream.
I'm known for being the dip goddess among my friend group. Years ago, when questioning why my dips were just *so* good, I pinpointed the reason: the trifecta of cream cheese, mayo, and sour cream. The mayo is essential to any delicious baked dip; it's super creamy, rich, and fatty, with a silky texture. Sour cream you don't need much of, but it adds a tang that you'll miss if you skip it. And cream cheese is the cornerstone of any baked dip. Typically one block will do the trick.
Bacon makes everything better.
Spinach dip included! We like to add it especially when we're making this dip for the holidays. The smoky bacon bits make baked spinach dip feel a little fancier. But you can totally skip it. This dip has a lot going on with three different cheeses; no one will miss the bacon.
Pick your favorite cheeses.
Cream cheese is non-negotiable, but you also need some melty cheese that can bring the flavor. We always turn to mozzarella for dip because it's mild-tasting and super melty. (Also, who doesn't like mozzarella?!) And then we choose another cheese that packs a little more punch, some sharpness or saltiness. Parmesan is best here, but white cheddar is what makes many baked dips shine.
YIELDS:8
PREP TIME:0 HOURS 15 MINS
COOK TIME:0 HOURS 30 MINS
TOTAL TIME:0 HOURS 45 MINS
INGREDIENTS
10 slices bacon
1 oz. (8-oz.) block cream cheese, softened
1/3 c. mayonnaise
1/3 c. sour cream
1 tsp. garlic powder
1 tsp. paprika
1 lb. frozen chopped spinach, thawed and squeezed of excess liquid
1 c. freshly grated Parmesan
1 c. shredded mozzarella, divided
1 baguette, sliced and toasted
DIRECTIONS
Preheat oven to 350°. In a large nonstick skillet over medium heat, cook bacon until crispy, 8 minutes. Drain on a paper towel-lined plate, then chop.
In a large bowl, stir together cream cheese, mayonnaise, sour cream, garlic powder, and paprika and season with salt and pepper. Fold in chopped spinach, bacon, Parmesan, and 3/4 cup of mozzarella.
Transfer dip to a baking dish and sprinkle with remaining 1/4 cup mozzarella. Bake until golden and bubbly, 25 to 30 minutes.
Serve with crostini.