Raider Country Does Not Own Certain Content Posted Here You May View The Disclaimer In Our SideBar Section
Appetizers..Dinners..Deserts..& Cocktails
to "

YOUR PLACE

"
(Check out our '

Thirsty Thursday

' & '

Frying Friday

' too)
Pumpkin Sugar Cookies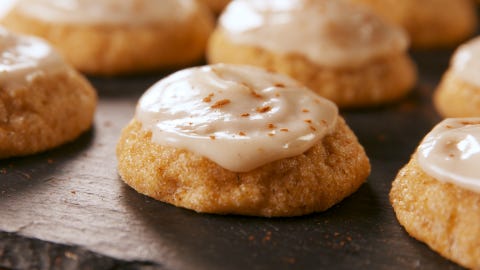 These pumpkin cookies are a little more cloud-like than your traditional chewy sugar cookie. But people could care less. They'll be too busy freaking out over how pillowy they are on the inside and slightly crisp they are on outside. If you don't have pumpkin spice, just use 1 teaspoon ground cinnamon, 1/2 teaspoon ground ginger, and 1/4 teaspoon ground nutmeg instead. And if don't want a super fluffy cookie, beat the butter and sugar until they're just combined.




YIELDS:40
PREP TIME:0 HOURS 10 MINS
TOTAL TIME:1 HOUR 0 MINS
INGREDIENTS
FOR THE COOKIES
2 1/4 c.
all-purpose flour
1 tsp.
baking soda
1 tsp.
pumpkin pie spice
1/2 tsp.
kosher salt
1 c.
(2 sticks) butter, softened
1 1/4 c.
granulated sugar, plus more for rolling
1/2 c.
pumpkin puree
1
large egg
2 tsp.
pure vanilla extract
FOR THE FROSTING
1
(8-oz.) block cream cheese, softened
2 c.
powdered sugar
1 tsp.
pure vanilla extract
1/4 tsp.
ground cinnamon, plus more for sprinkling
Pinch kosher salt
DIRECTIONS
Preheat oven to 350° and line two large baking sheets with parchment paper. In a medium bowl, whisk together flour, baking soda, pumpkin pie spice, and salt.
In a large bowl using a hand mixer, beat butter, sugar, pumpkin, egg, and vanilla until combined. Add dry ingredients and stir until just combined.
Scoop a tablespoon of cookie dough then roll in sugar. Transfer to prepared baking sheet and repeat with remaining dough, spacing cookies 2 inches apart.
Bake until cookies are lightly golden, about 10 minutes. Let cool completely.
Meanwhile, make frosting: In a large bowl, beat all ingredients until smooth and creamy. Frost the top of each cookie with cream cheese frosting and sprinkle with cinnamon.