Raider Country Does Not Own Certain Content Posted Here You May View The Disclaimer In Our SideBar Section
"

Frying Fridays

"
(Check out our '

Tasty Tuesday

' & '

Thirsty Thursday

' )
Today's Suggestion: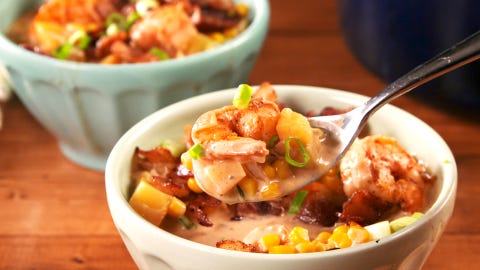 YIELDS:6 SERVINGS
PREP TIME:0 HOURS 10 MINS
TOTAL TIME:0 HOURS 40 MINS
INGREDIENTS
6
slices bacon, chopped
1 lb.
shrimp, tails removed
2 tsp.
Cajun seasoning
Kosher salt
Freshly ground black pepper
1 tbsp.
butter
1
medium onion, chopped
2
cloves garlic, minced
2 tbsp.
all-purpose flour
1 lb.
yellow potatoes, chopped
4 c.
low-sodium chicken broth
3
thyme sprigs
2
green onions, plus more for garnish
3 c.
sweet corn
3/4 c.
heavy cream
1/2 tsp.
paprika
DIRECTIONS
Season shrimp all over with Cajun seasoning, salt, and pepper. In a large pot over medium heat, cook bacon until crispy, about 6 minutes. Drain bacon pieces on a paper towel-lined plate.
Add shrimp to bacon fat and cook until pink, about 2 minutes per side. Transfer shrimp to plate with bacon.
Drain bacon fat then melt butter in pot, scraping up any browned bits with a wooden spoon. Add onion and cook until soft, about 5 minutes. Stir in garlic and flour, and cook 30 seconds more. Add potatoes, broth, thyme, and green onions, and bring to a boil. Reduce heat, cover, and simmer until potatoes are tender, about 10 minutes.
Stir in corn and cream, and simmer 5 minutes more. Turn off heat and stir in cooked shrimp, then season with salt, pepper, and paprika.
Garnish each serving with bacon.