Raider Country Does Not Own Certain Content Posted Here You May View The Disclaimer In Our SideBar Section
"

Frying Fridays

"
(Check out our '

Tasty Tuesday

' & '

Thirsty Thursday

' )
Today's Suggestion: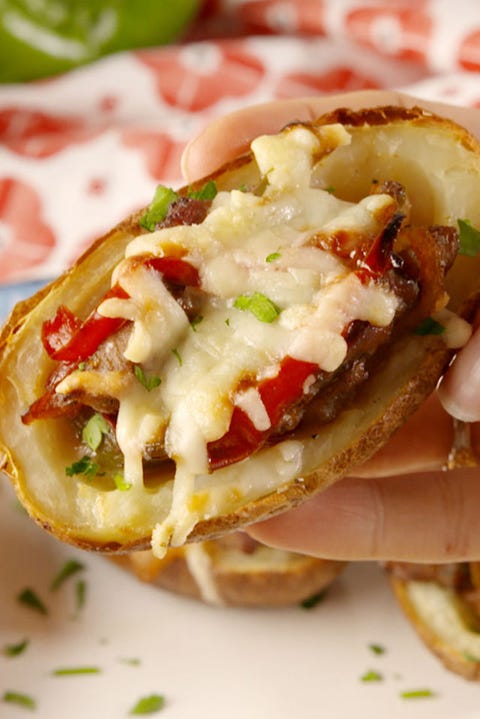 There isn't a more perfect party appetizer recipe that potato skins and ones stuffed with Philly cheesesteak are even better.
PREP TIME:0 HOURS 10 MINS
TOTAL TIME:1 HOUR 15 MINS
INGREDIENTS
6 russet potatoes, scrubbed clean
3 tbsp. extra-virgin olive oil, divided
Kosher salt
Freshly ground black pepper
1 large onion, thinly sliced
2 bell peppers, thinly sliced
1 1/2 lb. flank steak, thinly sliced
1 tsp. dried oregano
2/3 c. shredded provolone
1 tbsp. Freshly chopped parsley, for garnish
DIRECTIONS
Preheat oven to 400°. Pierce potatoes all over with a fork, then rub with 2 tablespoons oil and season with salt and pepper. Place potatoes on a baking sheet and bake until skin is crispy and potatoes are tender, about 1 hour. Let cool slightly until cool enough to handle.
Meanwhile, make filling: In a large skillet over medium heat, heat remaining tablespoon oil. Add onion and peppers and cook until soft, 5 minutes. Add steak and season with oregano, salt, and pepper. Cook until steak is cooked through, 5 minutes for medium.
When potatoes are cool enough to handle, cut them in half lengthwise. Scoop out flesh with a spoon, leaving a ¼ inch border. Return potatoes, cut side-up, to baking sheet. Divide steak mixture evenly among potatoes, then top with provolone.
Bake until cheese is melty, 10 minutes.
Garnish with parsley before serving.