Raider Country Does Not Own Certain Content Posted Here You May View The Disclaimer In Our SideBar Section
"

Frying Fridays

"
(Check out our '

Tasty Tuesday

' & '

Thirsty Thursday

' )
Today's Suggestion:
Beef Zucchini Enchiladas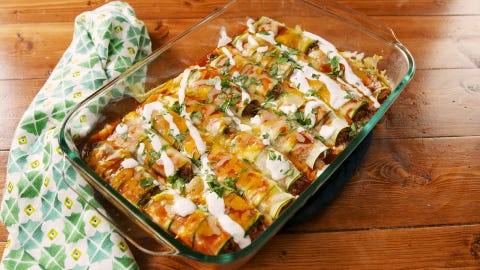 YIELDS:6 SERVINGS
PREP TIME:0 HOURS 10 MINS
TOTAL TIME:0 HOURS 50 MINS
INGREDIENTS
2 tbsp.
extra-virgin olive oil
1
large onion, chopped
Kosher salt
Freshly ground black pepper
2
cloves garlic, minced
1 lb.
ground beef
2 tsp.
chili powder
1 tsp.
cumin
1 1/2 c.
red enchilada sauce, divided
4
large zucchini, halved lengthwise
1 c.
shredded Monterey jack
1 c.
shredded cheddar
Sour cream, for drizzling
Freshly chopped cilantro, for serving
DIRECTIONS
Preheat oven to 350° and grease a 9"-x-13" baking pan with cooking spray. In a large skillet over medium heat, heat oil. Add onion and cook until soft, 5 minutes, then add garlic and cook until fragrant, 1 minute more. Add ground beef and cook, breaking up meat with a wooden spoon, until no longer pink, about 6 minutes. Drain fat.
Return skillet to stove then add 1 cup enchilada sauce, chili powder, and cumin. Season with salt and pepper. Let simmer 5 minutes.
On a cutting board, use a Y-shaped vegetable peeler to make thin slices of zucchini. Lay out three slices, slightly overlapping, and place a spoonful of beef mixture on top. Roll up and transfer to baking dish. Repeat with remaining zucchini and beef mixture.
Spoon remaining 1/2 cup enchilada sauce over zucchini enchiladas and sprinkle with both cheeses.
Bake until cheese is melty, 20 minutes.
Garnish with sour cream and cilantro before serving.