COUNTRY CHART Weekend of August 5-6:
1 RASCAL FLATTS Yours If You Want It *
2 DYLAN SCOTT My Girl
3 THOMAS RHETT Craving You w/Maren Morris
4 BILLY CURRINGTON Do I Make You Wanna
5 KEITH URBAN The Fighter w/Carrie Underwood
6 COLE SWINDELL Flatliner w/Dierks Bentley
7 LADY ANTEBELLUM You Look Good
8 JUSTIN MOORE Somebody Else Will
9 MIDLAND Drinkin' Problem
10 OLD DOMINION No Such Thing As a Broken Heart
11 DUSTIN LYNCH Small Town Boy
12 JASON ALDEAN They Don't Know
13 JON PARDI Heartache On The Dance Floor
14 BROTHERS OSBORNE It Ain't My Fault
15 KIP MOORE More Girls Like You
16 CHRIS LANE For Her
17 CARLY PEARCE Every Little Thing
18 KENNY CHESNEY All The Pretty Girls
19 KANE BROWN What Ifs w/Lauren Alaina
20 BRETT ELDREDGE Something I'm Good At
Scotty McCreery on "Five More Minutes" and His Top Life Lessons
"You're Going to Make Mistakes, and You've Got to Learn From Them and Move On"
Lock them doors. And never, ever open your door at 2 a.m. for a stranger.
That's just one lesson American Idol winner Scotty McCreery has learned in his first 23 years of life. In his 2016 autobiography, Go Big Or Go Home, he recalled the 2014 incident when he and some friends from NC State University were held up at gunpoint at an apartment in Raleigh while watching Gladiator and having late night Cook Out.
McCreery recalled feeling helpless and afraid. At the time, he hoped the intruders didn't recognize him dressed down in his Wolfpack cap, shorts and a t-shirt. The good news is they didn't. In the end, one of the robbers turned himself in and two others are suspected of being involved.
Now McCreery has carry permit, and he makes sure to lock the deadbolt of every door he enters. But he has never been the kind of person to be victimized by the experiences life throws at him. He stays positive and looks at every decision he's made in life as an opportunity to grow.
"Getting robbed kind of put things in perspective for me pretty quick," McCeery said during our 23-minute CMT.com interview. "It was obviously unexpected, and it still affects me today. I don't leave a door or go inside a house or anything without locking the deadbolt now. We were at the beach house the other day and it was 1 p.m. in the afternoon. Dad was outside, and I accidentally locked him out. It just kind of makes you appreciate life more and appreciate time with your friends and family more. It can all be over in a flash."
That's what McCreery's newest song, "Five More Minutes," is all about. He co-wrote the song with Frank Rogers and Monty Criswell two weeks after his grandfather died.
"I guess I'm at a point in my life when everyone is looking back whether it's on high school or college," McCreery said. "I had just lost my granddaddy and was writing with Frank and Monty. I knew the songs that Monty had written. He's a guy who knows how to talk about feelings and really put pen to paper and get them sounding right. He was the one who kind of had the idea for the song. We ran with it, and it became more about life, my different experiences and wishing we could all have a little bit more time. The day we wrote it, I knew it was special."
CMT.com: Are you writing for a new album?
McCreery: Yes. I've probably got most of the record done. And the second half, we pretty much have the songs ready we just have to go into the studio and cut them. I'm still writing songs but most of them are kind of there.
It's exciting. It's crazy to think I haven't had a dang record out since 2013. I mean, it's just wild, but it's exciting and I'm ready to get back in the saddle.
What stories that you want to be known for?
I just want to be impacting folks lives in a positive way. My main goal in all of this is to be able to do that through music. "Five More Minutes" for me is the first song that's really had some meat and potatoes that folks relate to, and that's the kind of music I want to sing.
You've got to have fluff sometimes and all that, but to have a song that impacts people and makes them think back to a specific moment in their life and it's healing for them, that's amazing. I'm really enjoying having the song out, and this is the kind of music I'd like to keep putting out.
The lessons you discuss in your book would be helpful to any artist interested in pursuing music professionally. But not that many musicians in the spotlight are willing to be that transparent.
I haven't got too much to hide. It's all kind of out there. But I think everybody goes through experiences for a reason. And you can learn from that and show others what you've learned. I had that opportunity in the book to talk about things I've been through — good and bad. I mean, I went on the biggest show on television, traveled the world with my idols — Brad Paisley and Rascal Flatts — but there are some tough moments like getting robbed at gunpoint. I'm still young and have a lot to figure out in life, but if you've learned something, share your knowledge and spread that.
How long did it take you to get used to the idea of making mistakes in the spotlight and being comfortable with that?

My whole life, you're going to make mistakes and you've got to learn from them and move on. But being in the limelight kind of made me clam up because I was so scared about, "What if somebody if they saw me doing this?" It's not like I'd be doing crazy stuff. It just made me more conscious of it.
You never want to let people down especially the people you care about most.
Exactly. And American Idol painted me out to be some holier than thou, good kid who's never messed up a day in his life and that's a lot of live up to. But to a lot of folks, that's who they see you as. It's something as simple as drinking a cold beer. I'd hide that from everybody. But that's me. I enjoy it and if grandma Sue is a fan of Idol and doesn't like it, then that's all good. But you can't stray away from who you are. And you've got to be yourself, and you're going to make mistakes and keep on going.
Was your girlfriend Gabi comfortable being written about in your book?
It took her a while before she really got comfortable with all this and she's still not. She'll go to the red carpet with me but she won't do pictures. She'll just kind of watch from a distance. She tries to go to different shows with me. Day by day she gets a little more into all this. She told me the other day, "I can see myself moving to Nashville one day." I said, "I told you you'd love it."
How does keeping a home base in North Carolina help you stay connected to what your fans are going through on a daily basis?
That's kind of been a very grounding thing for me is getting back home, seeing friends, family and folks who knew me before all this. In the nicest way, they truthfully don't care.
They love it, and they enjoy seeing what I'm doing. But when it comes down to it, they like me for me and they like hanging out just like the good times we've always had. And that's been good for me.
As far as the music goes, it's been nice this last year to be in Nashville a lot more and having a place here for the first time ever. That's been a better way to make this record. I feel like it's been a lot more natural and a lot more fun to make it here. But Raleigh and Garner, they've been grounding for me.
What would be some of the top lessons that music has taught you?
Perseverance would be No. 1. and work hard because Lord knows in this business nothing comes to you easy. It's kind of cliché, but it's tough to not to have fun in the music business. I love this and I want to do this every day of my life. I can't tell you a single day of my life I hadn't sang a song or did something in music. Singing is second nature.
See Joe Nichols Tackle Sir Mix-a-Lot Hit in Hilarious Viral Video
Don't Miss His Countrified Cover of Rap Smash "Baby Got Back"
What more can he say? Joe Nichols likes big butts, and he cannot and will not lie about it
As he told CMT.com in a recent interview, Nichols obviously plans on keeping things traditional country, but he's also committed to keeping a sense of humor by offering a hilarious, truly spot-on cover of "Baby Got Back," Sir Mix-a-Lot's Grammy-winning, double-platinum certified hit from 1992.
You may be skeptical. We weren't sure a country version of this particular song would work, either. However, there's an old saying that if a song is good, a song is good.
One person who gave it a thumbs-up is Sir Mix-a-Lot, the master and originator of the quintessential rump-shaking smash. He even makes a cameo appearance in Nichols' video.
It's all in good fun, so don't worry. His new album, Never Gets Old, features his current single "Hostage." There's no denying that twang.
Danielle Bradbery Starts New Chapter With I Don't Believe We've Met
The Voice Alumna's Sophomore Album Arrives Dec. 1
Since the release of her 2013 self-titled collection, Danielle Bradbery has been on a creative journey of self-discovery.
The music reflecting that journey will be released on her new 10-song sophomore album, I Don't Believe We've Met, arriving Dec. 1.
Bradbery co-wrote seven of the album's 10 songs including the opener and lead single, "Sway." Other songwriters who have contributed the collection include Thomas Rhett, Jaren Johnston, Rhett Akins, Nicolle Galyon, Emily Weisband and Heather Morgan.
"I am more than ready to re-introduce myself with music that is true to my story and my sound after diving into the writing process over the past four years," The Voice season four alumna said. "With I Don't Believe We've Met, I got the opportunity to work with amazing writers and producers that brought out my unique style and allowed me to tap into so many different influences. This is the beginning of a new chapter for me, and I am so excited for everyone to hear what we've made."
Ashley Monroe and Husband John Danks Are Parents
The Couple Welcomes Son Dalton William Danks
Ashley Monroe has a new love in her life, and he is her newborn son, Dalton William Danks. Baby Dalton was welcomed to the world on July 28 weighing eight pounds and measuring 20 inches long.
Dalton is the firstborn child for Monroe, 30, and her MLB-playing husband John Danks, 32. Monroe announced the birth of their son on social media Friday (Aug. 4). On Christmas Day 2016, she revealed she and Danks were going to be parents by sharing with a picture of her ultrasound on a social media.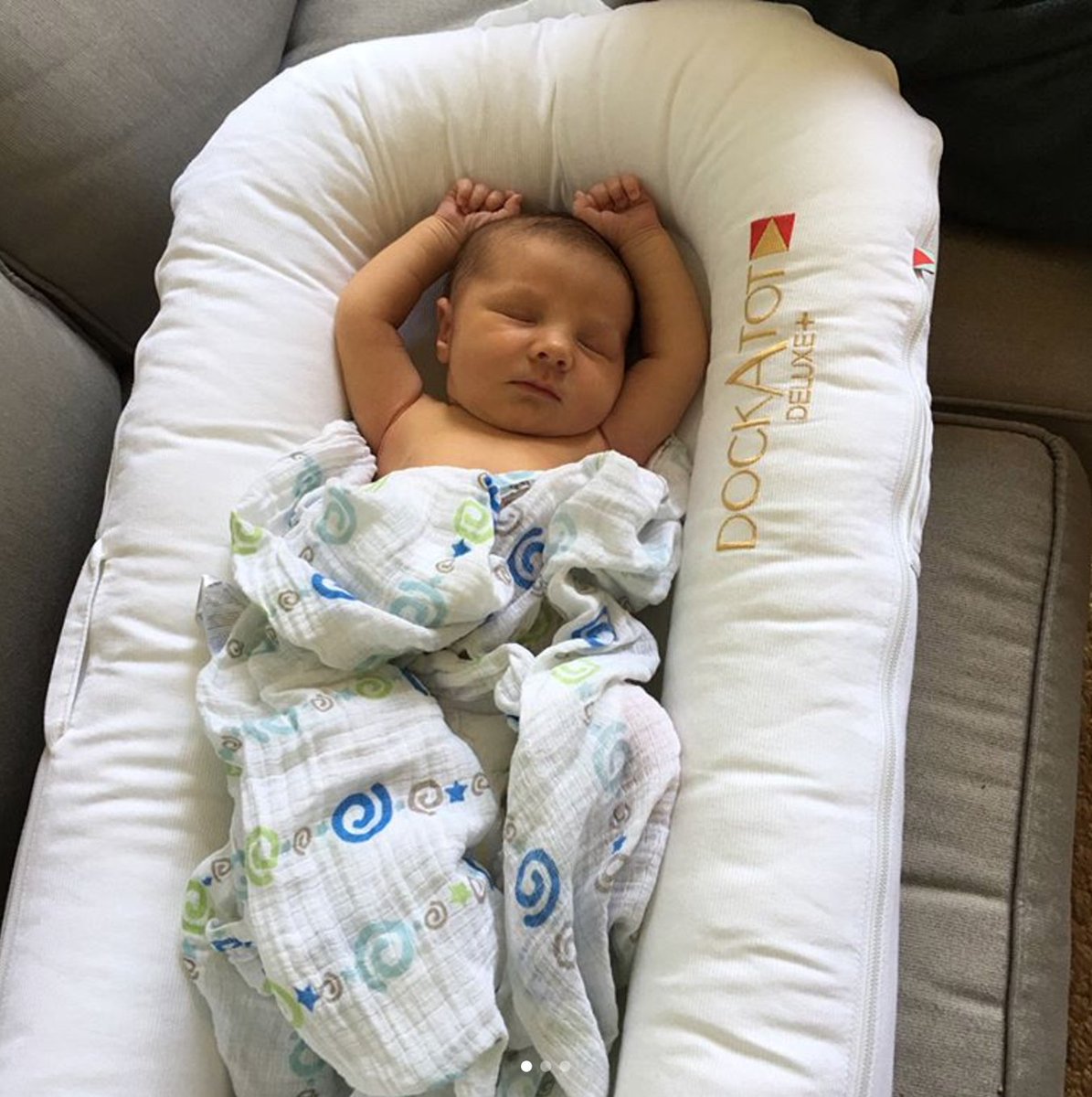 Monroe and Danks married in Oct. 2013 in Tennessee with her Pistol Annies band mate Miranda Lambert serving as Monroe's maid of honor. Lambert's then-husband Blake Shelton officiated the ceremony.
Monroe's latest album The Blade was released in July 2015. She achieved her first No. 1 as a co-writer of Jason Aldean's "The Truth" in 2010.
In a new interview with Billboard, Lambert revealed the Pistol Annies has plans to release new music in 2018.
Loretta Lynn: Blue Kentucky Girl Opens Aug. 25 in Nashville
Country Music Hall of Fame and Museum Exhibit Chronicles Icon's 50-Year Career
Loretta Lynn: Blue Kentucky Girl, a new exhibit at the Country Music Hall of Fame and Museum in Nashville, opens Aug. 25 with numerous artifacts from the legendary singer-songwriter's career that spans more than five decades.
Inducted into the Country Music Hall of Fame in 1988, Lynn received a 2017 Grammy nomination for best country album for Full Circle.
Musical items on display include the original handwritten lyrics for her chart-topping 1970 hit, "Coal Miner's Daughter," a 1956 Gibson J-50 guitar given to her in 1961 by her husband Doolittle "Mooney" Lynn and the American DR-332 ribbon microphone she used at her first recording session at Western Recorders Studio in Los Angeles in 1960.
Other memorabilia will include:
The 1956 Singer sewing machine she used to make her own stage clothes early in her career.
A red-and-white polka-dot dress with sequins and silver-cord trim made by Lynn when she was 14. Sissy Spacek wore the dress when she portrayed Lynn in the film Coal Miner's Daughter.
A green chiffon Lillie Rubin she wore at the 1972 CMA Awards, where she was named entertainer of the year.
A red dress embellished with beads and sequins featured on the cover of her 1968 album Fist City.
Presidential Medal of Freedom presented to Lynn in 2013.
The 85-year-old Lynn suffered a stroke in May and is currently focusing on her recovery.
Loretta Lynn: Blue Kentucky Girl runs through Aug. 5, 2018. It's part of the museum's recent exhibits showcasing artists such as Jason Aldean and Shania Twain. An exhibit on Faith Hill and Tim McGraw opens in November.
Jason Aldean Returns to Where His Nashville Career Began
11 Songwriters Join Him to Celebrate Three Latest No. 1 Singles
For Jason Aldean, it was both a sentimental and a triumphant journey Wednesday afternoon (Aug. 2) when he returned to Nashville's Wildhorse Saloon to bask in the glow of three more No. 1 singles — "Lights Come On," "A Little More Summertime" and "Any Ol' Barstool."
This brought his total of Billboard chart-toppers to 18.
What made the journey sentimental was the fact that he had been "discovered" and signed by his Broken Bow Records while performing at the Wildhorse 12 years earlier.
It was a success story Aldean wanted to share with his fans, 100 of whom stood in line on the sidewalk outside the bar, waiting patiently to enter while the artist held an hour-long press conference inside.
Sharing the spotlight with Aldean were the 11 songwriters who composed those three latest hits.
Brad Warren, Brett Warren, Tyler Hubbard, Brian Kelley, Jimmy Robbins and Jordan Smith jointly penned "Lights Come On." (Hubbard and Kelley are also known as Florida Georgia Line.)
Wendell Mobley, Tony Martin and Jerry Flowers wrote "A Little More Summertime," and Josh Thompson and Deric Ruttan crafted "Any Ol' Barstool."
The performance rights organizations BMI and ASCAP sponsored the celebration.
As they waited for the guests of honors to appear, dozens of music industry guests foraged and chatted along the Wildhorse's several bars. Others collected around a food table laden with a Mexican-themed buffet. Baskets of fried pickles adorned each table.
The stage was cluttered with tall stools, microphones and guitar stands and illuminated by three giant JA logo projections.
BMI's Bradley Collins and ASCAP's Beth Brinker served as the event's hosts.
Collins began by calling the 11 songwriters to the stage, noting that seven of them were BMI-affiliated. He added that, collectively, the 11 had written a total of 150 No. 1 songs.
"Lights Come On" was the third No. 1 for Hubbard and Kelley as songwriters, Collins said, adding that the Warren brothers have racked up eight chart-topping singles.
For Mobley, Collins continued, "A Little More Summertime," earned him his 10th trip to the top, while it was the 16th big one for Martin. Collins also pointed out that Martin has been nominated for induction into the Nashville Songwriters Hall of Fame. (This year's inductees into the Hall will be announced Aug. 9.)
Collins reported that Thompson has scored 27 cuts within the past 18 months but that "Any Ol' Barstool" is his first No. 1. For that distinction, BMI, as customary, awarded him a new acoustic guitar.
Brinker announced that "Any Ol' Barstool" is Ruttan's fourth No. 1. "Lights Come On," she said, is the seventh for Robbins and the first for Schmidt.
"A Little More Summertime" is the second topper for Flowers, who, besides writing songs, is Keith Urban's bandleader. Brinker said that Flowers can now claim a third No. 1 as co-writer of Billy Currington's "Do I Make You Wanna," which is this week's top country song.
Jon Loba, executive vice president of BBR Music Group, the parent company of Aldean's label, told the crowd that BBR founder, Benny Brown, had to pressure him to come see Aldean at the Wildhorse back in 2005.
At the time, Broken Bow Music was a relatively new label and already had confirmed hitmakers Joe Diffie and Craig Morgan on its roster. Moreover, Loba knew that Aldean had been dropped by both MCA and Capitol Records.
Nonetheless, Loba said, Brown directed him to accompany him to the Wildhorse, a very glitzy tourist venue not known for fostering exciting new acts.
"Benny said, 'I don't want to go where those [music] industry assholes are. I want to go where the fans are,'" Loba recalled.
Loba said Aldean had barely gotten into his set when it became clear to him that Broken Bow needed to sign him.
After all this insider buildup Wednesday, Aldean finally walked onto the stage to rapturous applause. Dressed casually in a baseball cap, short-sleeved blue shirt and stone-washed jeans, he began by thanking his non-industry fans in the audience.
Then he brought out the songwriters to accompany him in playing and singing the songs they'd written
He spoke briefly about each song — how he got it or what he most liked about it. He said he and his longtime producer, Michael Knox, had selected all the songs they wanted to record for his They Don't Know album when someone sent him the demo of "Lights Come On" on his phone.
He said he listened to it during a break in the record session and after hearing it told Knox, "I think I might have found my first single."
He was driving with his wife to their house in Florida, he recalled, when he listened to the demo for "A Little More Summertime." He remembered thinking it would be hard to top the demo, he said.
"I love songs that paint a picture," he said. "I thought this was one of those songs." When he and the songwriters sang the song, he let Mobley do the lead vocals, just as Mobley had done on the original demo.
Of "Any Ol' Barstool," Aldean said, "This is one of my favorite songs on the [They Don't Know] album. I love traditional country music. This was one of the best-written songs on the record."
At the close of the mini-set, Knox came out and told the crowd that Aldean is already in the process of recording his next album.
Then it was time for photos and a final drink.
Billy Currington's "Do I Make You Wanna" Is Week's Most-Played Country Song
Chris Stapleton Remains Welded Into Top Album Spot With From a Room: Volume 1
That it took his "Do I Make You Wanna" 36 weeks to inch its way to the top of Billboard's country airplay chart makes its summit all the sweeter for Billy Currington, who, with this achievement, celebrates his 11th No. 1 single.
Currington first entered the charts in 2003 with "Walk a Little Straighter," one of his own compositions. It peaked at No. 8, and it wasn't until two years later that he scored his first No. 1, "Must Be Doin' Somethin' Right."
His second chart-topper, "Good Directions" in 2006, helped launch the career of fellow Georgian, Luke Bryan, who co-penned the image-rich single with Rachel Thibodeau.
As he has for eons past, Chris Stapleton dominates Billboard's country albums chart. His From a Room: Volume 1 and Traveller occupy the No. 1 and No. 2 niches, respectively. Traveller has been in or adjacent to the winner's circle for the past 117 weeks.
Sara Evans' new collection, Words, is the week's highest debut, parting the curtain at a luminous No. 4. It's her first album of new material since 2014.
Other albums making their first appearance are Lucas Hoge's Dirty South (No. 12) and Parmalee's 27861 (No. 22). That five-digit number is, of course, the zip code for the band's hometown, Parmele, North Carolina.
Returning to the charts, we have Justin Moore's Kinda Don't Care (back at No. 46) and Rascal Flatts' Greatest Hits Volume 1 (No. 47).
There are just two new songs — Thomas Rhett's "Unforgettable" (No. 33 — and, no, it's not a cover of the Nat King Cole classic) and Dan + Shay's "Road Trippin'" (No. 52).
This week's No. 3 and No. 5 albums, in that order, are Luke Combs' This One's for You and Keith Urban's Ripcord.
Trailing in behind "Do I Make You Wanna" in the Top 5 procession are Urban's "The Fighter," featuring Carrie Underwood, Rhett's "Craving You," featuring Maren Morris, Cole Swindell's "Flatliner" and Dylan Scott's "My Girl."
Rascal Flatts' "Yours If You Want It," last week's No. 1, resides now at No. 11.
Kenny Chesney Preparing New Concert Album
Live in No Shoes Nation Set for Oct. 27 Release
Kenny Chesney's next album is a live collection scheduled for release on Oct. 27, he announced Thursday (Aug. 3). Live in No Shoes Nation is his first concert album since 2006's Kenny Chesney Live.
The song listing is still being compiled for the new album, but the 29 tracks will cover 10 years of stadium shows, pop-up bar gigs, amphitheaters and beach concerts.
Chesney has reviewed more than 1,000 hours of recordings, including a medley with Dave Matthews during Chesney's 2007 tour.
"I went in to relive some of those amazing nights I'd had with everyone in No Shoes Nation, and the more I listened, the more I wanted to hear," Chesney said. "And the more I heard, the more I knew I needed to share these moments with all the citizens of what we call No Shoes Nation so they could hear how freaking awesome they sound."
Dan Tyminski Goes Tyminski for Southern Gothic
New Genre-Bending Album Arrives Oct. 20
Southern Gothic, the newest album by Dan Tyminski, arrives on Oct. 20.
The multi-Grammy winner will release the collection under his surname, Tyminski, and he describes the new music as, "holding up a mirror to society without judgment or opinions."
What started out as writing songs for other artists resulted in Tyminski finding himself jealous to give up his originals and realizing that he had an opportunity to explore these songs within his own project.
A 25-year band member of Alison Krauss' Union Station, Tyminski co-wrote all of the album's 13 songs with Music Row's top songwriters including Sarah Buxton (Keith Urban's "Stupid Boy"), Josh Kear (Lady Antebellum's "Need You Now"), Cary Barlowe (Lady Antebellum's "American Honey") and Ed Sheeran collaborator Amy Wadge to create material that blurs genre lines. Jesse Frasure produced the project.
"I feel that the light and dark in this record are truly my journey, my personal journey in life," Tyminski explained in a release. "I think we all feel that whisper from each side of your shoulder, someone saying, 'Yeah, do it,' or 'No, don't do it.' I have an enormous struggle with that in my life, but it's something that I'm aware of. I try to make sure that I understand what the right voice is. I don't make quick decisions because light and dark, in my opinion, can often look very similar."
Tyminski sings on Avicii's worldwide EDM hit "Hey Brother" from 2014's True. He also sings "Man of Constant Sorrow" as George Clooney's Ulysses Everett McGill in the the 2000 Cohen Brothers film, O Brother, Where Art Thou?