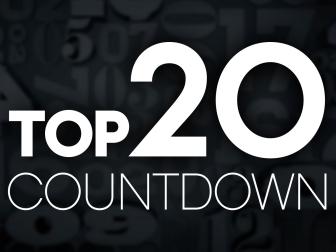 COUNTRY CHART Weekend of June 4-5
1 DUSTIN LYNCH Mind Reader *
2 OLD DOMINION Snapback
3 DIERKS BENTLEY Somewhere On a Beach
4 BLAKE SHELTON Came Here To Forget
5 THOMAS RHETT T-Shirt
6 LUKE BRYAN Huntin' Fishin' & Lovin' Every Day
7 TIM McGraw Humble & Kind
8 KEITH URBAN Wasted Time
9 MAREN MORRIS My Church
10 KENNY CHESNEY Noise
11 JASON ALDEAN Lights Come On
12 JON PARDI Head Over Boots
13 CARRIE UNDERWOOD Church Bells
14 ERIC CHURCH Record Year
15 CHRIS LANE Fix
16 DAVID NAIL Nights On Fire
17 JAKE OWEN American Country Love Song
18 FRANKIE BALLARD It All Started With A Beer
19 FLORIDA GEORGIA LINE H.O.L.Y.
20 JUSTIN MOORE You Look Like I Need A Drink
Dixie Chicks Let Their Music Do the Talking
Two-Hour Show Worth the 10-Year Wait
CHICAGO — When you wait 10 years between shows, you almost forget how many hits a band has.
Until you listen to two hours of non-stop music and it suddenly feels like it was yesterday that the Dixie Chicks were on top of the world.
It was fitting that Natalie Maines, Emily Robison and Martie Maguire scheduled their Chicago show for Sunday (June 5).
That was the very day in 2006 that the trio released what would become the biggest hit of their 20-year career, "Not Ready to Make Nice." And it felt like every fan in the massive crowd that filled the Hollywood Casino Amphitheatre was behind those lyrics 100 percent. They weren't ready to back down. You could hear it in their voices from "The Long Way Around" opener until the "Not Ready to Make Nice" encore.
For 26 songs — with only a handful of covers, including Sinéad O'Connor's Prince-penned "Nothing Compares 2 U" — it was like those Dixie Chicks fans never stopped loving the band and their music.
A few surprises along the way kept things from feeling too 2006.
Maines — the group's lead singer — brought out one of her sons ("How 'bout my kid," was all she said) to play guitar on "Sin Wagon" off their 1999 Fly album. The trio played an instrumental song about halfway through their set, reminding the crowd of their deep bluegrass roots. And they performed Patty Griffin's senior-citizen's lament, "Don't Let Me Die in Florida."
For the majority of the show, Maines, Robison, Maguire and their backing band all wore black, but all of their instruments were white. The banjos, the fiddles, the guitars, the steel guitar, the bass guitar, the drums, the resonator guitar, the tambourine, the mandolin and even the microphone stands — all white. Which made the artistic video backdrop that much more vivid.
The only thing missing from the concert was the usual between-song storytelling. But it was almost unnecessary, because the Dixie Chicks' music said so much.
Before the encore, Maines did have one thing to say to the fans.
"Hopefully," she said with an unassuming politeness in her voice, "you guys won't wait 10 more years before you invite us back."
Carrie Underwood Added to 2016 CMT Music Awards
Other Additions Include Pitbull's Performance With Leona Lewis and Cassadee Pope
Carrie Underwood will perform her latest hit "Church Bells" onstage at the 2016 CMT Music Awards airing live Wednesday (June 8) at 8 p.m. ET/PT from Nashville's Bridgestone Arena.
In other awards show news revealed Monday, Pitbull will take the CMT stage for the first time during a performance with nominee Leona Lewis and CMT Music Award-winner Cassadee Pope. Additionally, new acts Brothers Osborne, LOCASH, Maren Morris and Michael Ray will perform on the Firestone stage.
The show will be highlighted with numerous collaborations, including Dierks Bentley with Elle King, CMT's Still The King star Billy Ray Cyrus with Cheap Trick, Fifth Harmony with Cam, Blake Shelton with the Oak Ridge Boys and Keith Urban with Brett Eldredge and Maren Morris.
The list of performers also includes Chris Stapleton, Florida Georgia Line, Jason Aldean, Luke Bryan and Thomas Rhett.
Widely regarded as "the loudest night in country music," the 2016 CMT Music Awards will be hosted by Erin Andrews and J.J. Watt.
Tickets to the show are currently on sale via Ticketmaster.
Lee Ann Womack Contemplates Life and Love in New Video
"Chances Are" Is From Her Latest Album, The Way I'm Livin'
Lee Ann Womack's crystal clear voice could sing just about anything and it would sound incredible, but I'm really glad she's chosen "Chances Are" as her latest single.
Womack's cover of Hayes Carll's dancehall ballad is downright flawless. Her soaring vocals boast the perfect amount of inherent twang to complement the steel guitar crying in the background as she ponders her chances of finding love in a bar.
"Chances Are," a track from Womack's The Way I'm Livin' album, was nominated for best country song and best solo country vocal performance at the 2016 Grammy Awards. Filmed at the historic Gruene Hall in New Braunfels, Texas, the video was directed by Roger Pistole.
This is true blue country at its finest, y'all.
Duets Are The Name Of The Game At CMA Fest

It's that time of year again — CMA Fest in Nashville, Tennessee. Over the years, fans have seen some exceptional performances, and among those have been duets (both announced and surprise) by some of country music's biggest stars.While we expect 2016 to be no different and to bring us some exciting collaborations on several different stages throughout the week/weekend, we can't help but take a little time to reflect on performances past and get ourselves geared up for what we are about to experience. Here are some of our favorite musical partnerships from CMA Fest over the last few years.
Carrie Underwood & Miranda Lambert – "Somethin' Bad"
Eric Church & Lzzy Hale – "That's Damn Rock 'N' Roll"
Jason Aldean & Travis Tritt – "Homesick"
Phil Vassar & Jo Dee Messina – "I'm Alright"
Kurt Busch gets first Sprint Cup win of 2016 at Pocono

LONG POND, Pa. (AP) -- Kurt Busch felt like a game show contestant who had to beat the clock to win a prize.
Told his Chevrolet was two laps shy of having enough fuel for the finishing push, Busch did all he could to save, scrimp and stretch over the final five laps to give himself a shot at the win. He coasted, he kept his foot off the gas and he even turned off his engine when he headed into the turns at Pocono Raceway.
''I kept finding ways to think I was saving fuel,'' he said. ''The way the fuel mileage played out, I didn't know if we'd have enough.''
With an interim crew chief calling the shots, Busch found enough ways to make his gas last and won the Sprint Cup race Monday, his first victory of the season and a welcome dose of good news for Stewart-Haas Racing.
The 2004 champion, urged by his team to step on it hard for the final lap, somehow made it work on a track with the longest frontstretch in motorsports. There was no pain at the pump: Busch not only had enough fuel left to win, but enough for victory burnouts and a celebratory lap around the track.
''I was like, whoa, how many laps shy are we? They said two,'' he said. ''These are really long straightaways at Pocono and you have to manage saving fuel as well as maintaining lap time. So many thoughts can go through your head, but I just stuck with the checklist.''
Dale Earnhardt Jr. was second, and Brad Keselowski, Chase Elliott, and Joey Logano rounded out the top five in a race postponed one day because of rain.
Busch won with interim crew chief Johnny Klausmeier, the lead engineer, calling the shots as Tony Gibson served a one-race suspension.
''Y'all got this... ????'' Gibson tweeted before the race.
They sure did - a victory that Busch was building toward all season.
He had quietly been having a solid season for SHR, posting four top-five finishes and 11 top 10s in 13 starts entering the race. He had reeled off seven straight top 10s - he graded his season an A-minus - but didn't have the win he needed to earn a spot in the Chase for the Sprint Cup championship.
Busch led 32 laps in winning his 28th career Cup race, moving him into a tie with Hall of Famer Rex White for 25th on NASCAR's career wins list. He also has three wins at Pocono with three different teams. He became the ninth driver to win a race this season.
Without a caution to help conserve fuel, Busch nursed what was left in the tank for the last 30-plus laps of green flag racing to snap a 34-race skid.
Busch and Klausmeier posed arm in arm for a picture in victory lane and left just enough space between them to insert a picture of Gibson.
''We just kept him informed on everything that was going on, and he took it and ran with it,'' Klausmeier said.
Elliott led 51 laps and seemed poised for most of the race to earn his first career win. But the Hendrick Motorsports rookie who replaced Jeff Gordon in the No. 24 Chevy stumbled off late restarts.
''I wish I had been a little more patient and given ourselves a better chance,'' Elliott said.
It was the first Monday race at Pocono since 2009 and the first postponed Cup race of the season.
Keselowski, the pole sitter, ran into early trouble when he was called back to the pits because of unapproved body modifications on his No. 2 Ford. One of his crew members threw a shoulder block into a side panel, which caused a dent that could have given Keselowski an advantage. Crew members argued with pit officials, to no avail.
NASCAR officials quickly surrounded Keselowski's car after the race.
''It was two NASCAR penalties and I'm not sure I really know what happened there,'' he said. ''The team guys can probably give you a better answer, but we fought back really well. At the end I think we were capable of winning the race with a really fast car, even with the right side door torn up.''
| East | W | L | PCT | GB | HOME | ROAD | RS | RA | DIFF | STRK | L10 |
| --- | --- | --- | --- | --- | --- | --- | --- | --- | --- | --- | --- |
| Baltimore Orioles | 33 | 23 | .589 | - | 22-11 | 11-12 | 262 | 241 | +21 | W2 | 6-4 |
| Boston Red Sox | 33 | 24 | .579 | 0.5 | 19-12 | 14-12 | 336 | 267 | +69 | L1 | 4-6 |
| Toronto Blue Jays | 31 | 28 | .525 | 3.5 | 14-14 | 17-14 | 246 | 240 | +6 | L1 | 7-3 |
| New York Yankees | 27 | 30 | .474 | 6.5 | 14-12 | 13-18 | 217 | 245 | -28 | W1 | 4-6 |
| Tampa Bay Rays | 26 | 30 | .464 | 7 | 11-15 | 15-15 | 237 | 238 | -1 | W4 | 5-5 |
| Central | W | L | PCT | GB | HOME | ROAD | RS | RA | DIFF | STRK | L10 |
| Cleveland Indians | 32 | 24 | .571 | - | 17-12 | 15-12 | 271 | 223 | +48 | W6 | 7-3 |
| Kansas City Royals | 30 | 27 | .526 | 2.5 | 19-7 | 11-20 | 223 | 235 | -12 | L5 | 5-5 |
| Detroit Tigers | 29 | 28 | .509 | 3.5 | 16-12 | 13-16 | 270 | 263 | +7 | W4 | 5-5 |
| Chicago White Sox | 29 | 28 | .509 | 3.5 | 13-12 | 16-16 | 229 | 219 | +10 | L3 | 2-8 |
| Minnesota Twins | 16 | 40 | .286 | 16 | 9-18 | 7-22 | 209 | 296 | -87 | L3 | 4-6 |
| West | W | L | PCT | GB | HOME | ROAD | RS | RA | DIFF | STRK | L10 |
| Texas Rangers | 35 | 22 | .614 | - | 22-9 | 13-13 | 276 | 240 | +36 | W4 | 8-2 |
| Seattle Mariners | 31 | 26 | .544 | 4 | 12-15 | 19-11 | 288 | 241 | +47 | L4 | 3-7 |
| Houston Astros | 28 | 31 | .475 | 8 | 17-14 | 11-17 | 256 | 267 | -11 | L1 | 8-2 |
| Los Angeles Angels | 26 | 31 | .456 | 9 | 12-17 | 14-14 | 246 | 260 | -14 | L1 | 5-5 |
| Oakland Athletics | 25 | 32 | .439 | 10 | 13-16 | 12-16 | 227 | 283 | -56 | L3 | 5-5 |
East

W

L

PCT

GB

HOME

ROAD

RS

RA

DIFF

STRK

L10

Washington Nationals

34

23

.596

-

15-11

19-12

248

194

+54

W1

6-4

New York Mets

31

24

.564

2

15-12

16-12

207

182

+25

L1

5-5

Miami Marlins

30

27

.526

4

14-16

16-11

219

235

-16

W1

5-5

Philadelphia Phillies

28

30

.483

6.5

15-15

13-15

188

239

-51

L1

2-8

Atlanta Braves

16

41

.281

18

6-23

10-18

176

274

-98

L5

3-7

Central

W

L

PCT

GB

HOME

ROAD

RS

RA

DIFF

STRK

L10

Chicago Cubs

40

16

.714

-

22-8

18-8

303

160

+143

W1

8-2

Pittsburgh Pirates

30

26

.536

10

16-11

14-15

277

252

+25

L1

3-7

St. Louis Cardinals

30

27

.526

10.5

15-16

15-11

307

253

+54

W2

6-4

Milwaukee Brewers

26

31

.456

14.5

15-15

11-16

235

279

-44

L1

5-5

Cincinnati Reds

21

36

.368

19.5

14-16

7-20

250

341

-91

L1

6-4

West

W

L

PCT

GB

HOME

ROAD

RS

RA

DIFF

STRK

L10

San Francisco Giants

35

24

.593

-

16-11

19-13

260

234

+26

L2

5-5

Los Angeles Dodgers

31

28

.525

4

16-13

15-15

253

216

+37

L1

6-4

Colorado Rockies

26

31

.456

8

10-15

16-16

288

302

-14

W2

3-7

Arizona Diamondbacks

25

35

.417

10.5

9-21

16-14

264

303

-39

L1

4-6

San Diego Padres

24

35

.407

11

14-17

10-18

239

285

-46

W1

4-6
DeChambeau claims U.S. Open spot, Donald in playoff

(Reuters) - Rookie Bryson DeChambeau earned a spot at the U.S. Open on Monday after coming through the final stage of qualifying but former world number one Luke Donald will have to return early on Tuesday for a playoff.
The final 55 spots for the June 16-19 U.S. Open at Oakmont Country Club, just outside of Pittsburgh, were up for grabs at 10 sectional sites across the country.
Donald finished in a six-way tie for ninth after rounds of 68 and 69, and will compete for one of five spots available in a sudden-death playoff on Tuesday in Powell, Ohio.
Most of the 103 players at the Wedgewood and Kinsale courses consisted of PGA Tour players, who competed at the nearby Memorial last week. There were 13 spots available.
The 22-year-old DeChambeau had gained a U.S. Open exemption when he won last year's U.S. Amateur but forfeited that spot when he turned professional a week after the 2016 Masters.
DeChambeau (70-63) finished joint second in the Ohio sectional, one shot behind Carlos Ortiz (66-66).
2014 U.S. Open runner-up Erik Compton, Aaron Baddeley and Camilo Villegas were among those who failed to qualify. K.J. Choi withdrew after an opening 71, as did Stuart Appleby after a 74.
Former PGA Championship winner David Toms (66-69) was one of 10 qualifiers in Memphis, Tennessee.
Houston Open winner Jim Herman posted rounds 67 and 70 for a nine-under total to tie 36-year-old American professional Rob Oppenheim, also with scores of 67 and 70, and finish top of the sectional qualifying in Summit, New Jersey.
Two-time U.S. Open champion Lee Janzen (72-70) missed out on one of the six spots in New Jersey.
Players will return to the course in Jacksonville, Florida on Tuesday after play was suspended due to darkness. Vijay Singh is in the hunt for one of the qualifying spots.
Penguins one win away from Stanley Cup after Game 4 triumph

SAN JOSE, Calif. – The Pittsburgh Penguins are one victory away from hoisting their fourth Stanley Cup in franchise history.
The Penguins earned a split on the road, and earned the right to play for chalice at home after defeating the San Jose Sharks, 3-1 in Game 4 of the Stanley Cup Final on Monday night.
Pittsburgh holds a 3-1 series lead. Game 5 is Thursday night in the Steel City.
Goalie Matt Murray, who had a sub-par Game 3, moved to 5-0 in the playoffs after a loss with a strong effort buoyed by a team defense that again held the Sharks without a shot for long stretches, including nearly half the second period. But it was Murray, standing tall in the third period, that made the ultimate difference. He made 23 saves on the night.
He got the goal support he needed on tallies by Ian Cole and Evgeni Malkin, both assisted by Phil Kessel, who has 21 points in 22 playoff games. Eric Fehr had the third-period dagger, his third of the playoffs.
Malkin made a smart play in the neutral zone, maintaining possession rather than dumping the puck in on a change. Instead, he found Kessel with speed through the offensive zone. Kessel went wide and fired on Martin Jones, whose pad stop to the opposite boards instead found a pinching Cole for the goal at 7:36. It was Cole's first goal of the playoffs, and first goal since March 2015.
Cole complained about the quality of the ice after Game 3. He no doubt found it to be a more palatable sheet on Monday night.
Unlike in Game 3, the Penguins held that lead for the rest of the period, getting a key stop by Murray on Joe Pavelski and then killing a Sharks' power play following a Ben Lovejoy holding the stick call.
The Penguins then struck on their own power play in the second period.
Melker Karlsson was called for interference – on a pick play, clipping the skate of Eric Fehr - at 2:28 of the period. It took the Penguins nine seconds to convert on the man advantage, as Kris Letang fed Kessel on the half boards, who snapped a pass right to the blade of Malkin's stick as the hulking center stood unguarded to Jones's left. It was his first goal since Game 5 of the Eastern Conference Final.
The Penguins, again, were faced with a late-period penalty kill that could have altered the course of the game. And again, they were up to the task: Shutting down what was the best home-ice power play in the playoffs coming into this series after Brent Burns drew a hooking call on Bryan Rust.
In the third period, Murray did his best work: Stopping Patrick Marleau twice, including breaking in alone; and later on a point-blank Joe Pavelski shot. He needed to, as the Penguins flipped the switch from "attack" to "defend," for some reason.
But a funky bounce and a turnover led to the Sharks' first goal, cutting the lead to 2-1.
Melker Karlsson, who had been playing with the team's top line at the start of the night, did strong work on the forecheck, as did line Chris Tierney, who battled Cole near the Penguins' crease. The Penguins defenseman attempted to clear the puck, but instead sent it to Karlsson, who fought off a Sidney Crosby check and sent the puck through Murray while falling to the ice.
Fehr, so valuable in his depth role and on the PK, iced it with a snipe over Jones for the 3-1 lead.
The Sharks pulled Jones, but couldn't rally. And now they're one loss away from seeing the Penguins raise the Cup.